Billionaire & Rare Philanthropist, Bola Shagaya Speaks Pasionately On The 4 Secrets To Her Success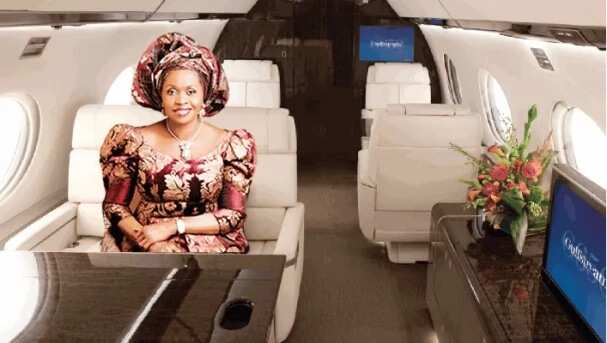 BY MIKE DE CERUTTI OSAGIE
E:chiefcerrutti@gmail.com
SMS + 9030976003
The respected oxford dictionary described resilience as *

the capacity to recover quickly from difficulties; toughness. While

Psychological resilience is the ability to mentally or emotionally cope with a crisis or to return to pre-crisis status quickly. Resilience exists when the person uses "mental processes and behaviors in promoting personal assets and protecting self from the potential negative effects of stressors"
Now if there is one woman whose story and secret to greatness can be told, she is non other than the billionaire business tycoon called Hajia Bola Shagaya
In the first of long series report on her, DE CERUTTI RICHLIST today present for the benefit of today's youths, her four secrets to success
In her words " There is no secret to success then faith in God and hard work, but beyond that ,what our youths of today must bear in mind are few vitals qualities like
*
Resilience
* Perseverance in business
*Total focus in life and
* RAW Determination, I can tell you these qualities help me to where I am today and they can be of help to you too " she postulated
SHAGAYA : A BRIEF PROFILE
Bola Shagaya was born on the 10th of October, 1959 in Kwara State. She hails from Ilorin, Kwara State but resides and conducts her business mostly in Lagos. Her father, Emenike Moba was a Nigerian public servant while her mother, Adut Makur was a Sudanese seamstress.
She attended Queens School in her hometown and has a degree from Ahmadu Bello University, Zaria before proceeding to United States where she studied Accountancy and Economics from Armstrong College in California.
The best entrepreneurs in the world don't act like they know it all, you have to keep learning to continually be successful. Same can be said of the businesswoman, Bola Shagaya. She has participated in numerous seminars, workshops and symposiums including some organised by Harvard Business School in United States, Euro money and KPMG.
Entrepreneurial Journey
*
Fresh out of school, Bola Shagaya started a promising career as a banker. she worked in the audit department of the Central bank of Nigeria (CBN). In 1983, she left the corporate world and ventured into business.
Her first business experience started with importation and distribution of photographic materials such as roll papers, films and chemicals under the trading name, Bolmus International (Nigeria) Limited. Soon, she became the sole West African agent of the then leading photographic company, Konica.
She introduced Konica brand of photographic materials into Nigerian and West African markets.
As a shrewd entrepreneur, she saw opportunities in Nigerian photography industry and expanded her Konica marketing operations to photo laboratories. This later birthed Fotofair (Nigeria) Limited, a photo laboratory company in 1997.
Today, Fotofair (Nigeria) Limited has grew into a leading photo laboratory company in Nigeria with many branches spread across the nation.
Other Investments of Bola Shagaya
Hajia as she is fondly called stretched her tentacles into the Nigerian oil and gas sector. She founded Practoil Limited, one of the largest importer and distributors of base oil in Nigeria today.
As far back as the late 1980's, during Gen. Ibrahim Babaginda led-administration, the business tycoon stirred her oil and gas company to secure allocation for oil blocks. Thus, making her one of the indigenous oil marketers.
Around 2005, Bola Shagaya became the managing director of Practoil Limited. She expanded her operations in oil and gas industry by establishing another exploration company, Voyage Oil and Gas Limited in 2011. In 2012, Voyage Oil and Gas Limited was awarded an oil exploration license by the Nigerian government.
Ever since then, her oil and gas companies have operated as dealers and independent marketers of oil, petroleum products and gas. They also engage in petroleum product sales, marketing, storage and haulage.
One of her companies, Practoil Limited has structured its lubricating plant in Kirikiri, Lagos. And it is expected to produce multi-grade oils and lubricants.
Bola's business empire includes huge investments in real estate. She owns a lot of luxurious residential properties cutting across major cities in Nigeria.
BEYOND BEAUTY /BUSINESS : A RARE PHILANTHROPIST
Bola Shagaya is a sport lover, especially polo. Over the years, she has consistently supported polo tournaments in Nigeria. Recently, she supported the Access Bank's UNICEF Charity Shield Polo Tournament. The event was to raise fund for the renovation of deteriorated classrooms as well as provide conducive learning environment for displaced and underprivileged children in Kaduna over the next five years.
The astute entrepreneur loves fashion and supports art. It is no wonder that she was a one-time patron of Fashion Designers Association of Nigeria (FADAN). And beyond that ,she has provided scholarships to several less privileged student around Africa and given business breaks to many widows across the country- Indeed a rare philanthropist
*